Now I can show something new ! It's not that I'm fed up with my crochet or any other craft, it's just that...let's put it this way - it's taking me more time than before :) I'm still on the way with my knitting summer bikini cover-up thing, and my popcorn crochet bag and ! my promised Keito Dama skirt - I crocheted the top from the post below but something got wrong and I didn't like it so I have to fix it and then I will show you :) For now I can present you my lily-rose tunique - crocheted and sewed by me ! This skirt was sewed two or three years ago but it was too big for me so now I could use that for crocheting the top bust on it and I have a tunique for my vacation ! By the way,3 weeks left and I'm off to France/Provence - Saint Marie de la mer !!!!!!!!!!!!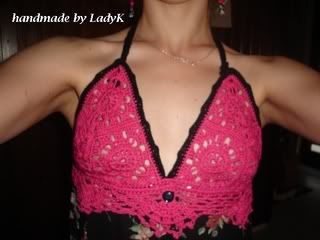 Oh, and I almost forgot ! I got a perfect present for my birthday from my friend - jewelery make set - so here's what I did! It will look pretty cool with a black dress :)
And my Lola already seems to like it !